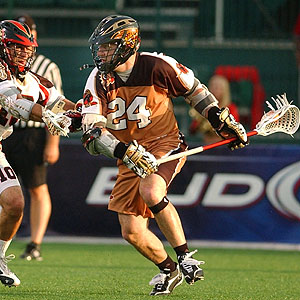 By Mike Wilson
A few months ago
we told you about
John Grant Jr., a youngster without a name a name for himself who turned heads at the end of the season with the Mammoth.
Now as he plays in the MLL, he is continuing to grow as a attackman with the Long Island Lizards, more specifically, as a playmaker.
Grant started the MLL season with the Hamilton Nationals and was the Quarterback of the offense, distributing the ball to the rest of the attackers with precise timing, and speed.
Last week, he was traded to the Long Island Lizards for a second round pick, a reasonable trade, though in the long run it may benefit the Lizards more as Grant continues to grow and learn the league.
In his debut with the Lizards, he helped his team defeat the Chesapeake Bayhawks by collecting 2 assists. This now adds to his point total of 9 (2 goals 9 assists.)
If there have been any criticisms, it's that he doesn't shoot the ball enough. He only took a single shot in his Long island debut and has only recorded 7 on the season, though as mentioned before, he has 2 goals.
Grant has a laser of a shot and if used, it can put a lot of points on the board. If he can find away to work his shot into the offense as well with his brilliant passing, he can be a star in both the MLL, and the NLL.